Photo sharing jer la yer hehehehehe.... finally, mission accomplished! phewww... after weeks of sleepless nite, days of walking zombie... sakit tangan sakit bahu sakit pinggang sakit bontot kematu (lama sgt duduk occay) seme ahh..on 1st October, my cake Alhamdulillah selamat sampai ke venue of the event, Sunway Giza @ Sunway Damansara. Walaupun tak menang (masuk bukan untuk menang pun kan).. tapi seronok sbb dpt participate this 1st time event by ICCA along with the participation from the sifus and professionals yang lain. Aku ni baru Amateur.. tunggu lahhh!!!! cheewahhh over compiden laks. 10 taun lagik kot baru aku menang akekekeke...
The Winner


Winning Cake - Close Up 1
Winning Cake - Close Up2
2 thumbs up for this 12 years old gurl sugar creation!
1st Runner Up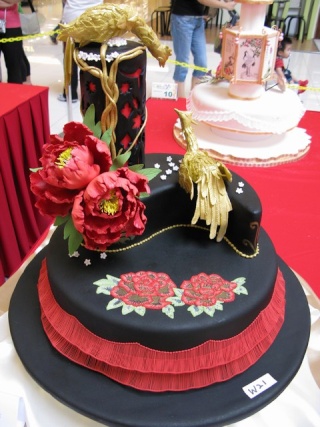 2nd Runner Up
Me and my cake during the submission